Frequently asked questions
When is the event?
---
Thursday, 31 December 2020
---
Where is it being held?
---
Anzac Peace Park, Princess Royal Drive, Albany
---
What time does the event start?
---
The event commences from 5pm and concludes after the 9pm fireworks display.
---
How can I get there?
---
Parking is available on Proud Love Parade and Stirling Terrace, where you will then navigate to the event via the footbridge.
The City of Albany encourages you to travel smart to this event, and consider walking or cycling to avoid parking hassles. Additional bike racks will be available.
---
Are there accessible facilities?
---
An Access & Inclusion video will be added closer to the event.
Disability parking is available at the Albany Entertainment Centre carpark for people who hold a valid ACROD pass. You can then access the Anzac Peace Park along the footpath, this is past the Entertainment Centre and along the waterfront. There is limited ACROD parking available and a space is not guaranteed.
Eligible patients with a key can use the Changing Place near the Albany Entertainment Centre. If you have forgotten your key, you can hire a key from the Albany Visitors Centre in York Street.
Public accessible toilets are located at the Women's Rest Centre on the corner of Stirling Terrace and York Street, with temporary toilets available.
---
Will there be road closures?
---
Yes. Date: Thursday, 31 December 2020
Time: 4pm – 9.30pm
Roads:
- Princess Royal Drive will be closed between Festing Street and Toll Place;
- York Street will be closed south from Stirling Terrace.
- Heavy vehicles needing to access the port will be escorted through.
Reason for closures: To facilitate safe access and egress to all event patrons and personnel attending the New Year's Eve Picnic & Fireworks presented by Live Lighter.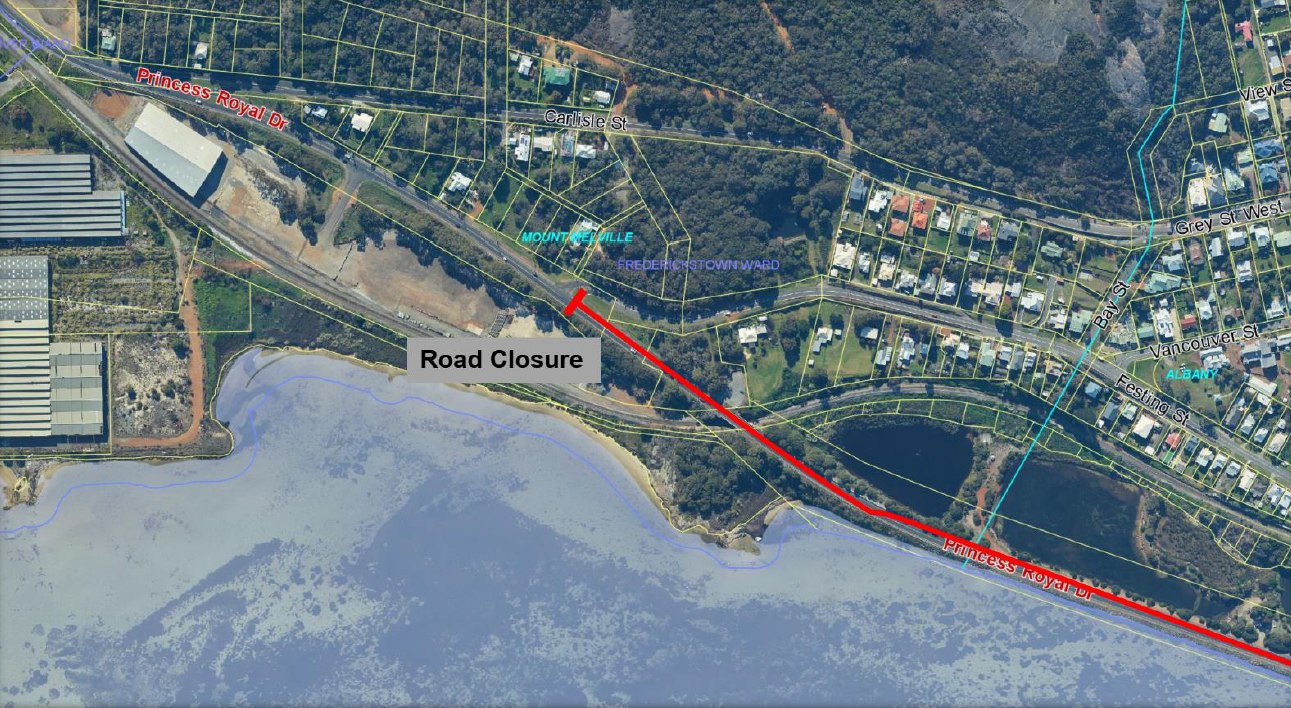 Please note: There will be a 100-metre exclusion zone around the fireworks detonation point which will be delineated to exclude access. This will be implemented for the safety of the event patrons and personnel attending the event.
---
What entertainment is available at the New Year's Eve Picnic & Fireworks?
---
Line-up of live music from local performers. Check out the music line up here
Albany Wacky Golf will be providing lawn games and a 9 hole themed Wacky Golf Course
Pluck-a-duck game $4 per game
Face Painting $8-$12 per person
Henna Tattooing $10 per person
Show Bags stall
Glow in the dark novelties vendor
---
What time are the fireworks?
---
There will be 1 x fireworks display at 9pm.
---
How much does it cost?
---
This is a free entry event, see above (entertainment) for games and activity costs.
---
What should I bring?
---
Picnic rug
Picnic (there will be food vans onsite)
Fold-out chairs
Blanket or warm clothing in case it gets cool
Glow sticks and/or torch (there will be a glow in the dark vendor this year selling paraphernalia)
---
Can I bring my dog?
---
Yes, given that your dog is on the lead and with you at all times.
---
Can I smoke at this event?
---
No, this is a smoke free event.
---
Is there alcohol available at this event?
---
No, this is a family friendly event.
---
Is there EFTPOS?
---
There will be no ATM's available, however some food vendors do have card facilities.
---
What do I do if I require first aid?
---
There will be a St John Ambulance onsite, as well as a First Aid trained staff and first aid kits will be available at the City's information marquee.
---
What if I lose or find something?
---
See the Events Staff at the information Marquee.
---
How do I make sure I am doing my part to ensure this is a COVID safe event?
---
Prior to attending:
Download the free COVIDSafe app prior to attending
Download the free SafeWA app - digital contact register system.
Available: Apple App Store or the Google Play Store now.
At the event:
Scan the SafeWA QR code at the event site to check into the event. You are able to sign in guests on their behalf if they need help. This is a contactless register to assist us with contact tracing if required.
Take advantage of hand sanitizer stations
Keep a safe distance from other people
Stay home if you are feeling unwell.
---
How do I get involved as a food vendor?
---
Contact the City of Albany Events Team today: 08 6820 3000
Food Vendor Expressions of Interest Forms can be
found here.
---
How do I get involved if I am an artist, community group or local business?
---
Expressions of Interest have now been closed for the 2020 New Year's Eve Event.
If you would like to register to be on the City of Albany's Events database to be notified of future event opportunities, complete the
online form
.
---
Who can I contact for more information?
---
City of Albany Events Team
events@albany.wa.gov.au
---
---